VTRO
- Vertro, Inc., an Internet company that owns and operates the ALOT product portfolio primarily in the United States. The company offers ALOT toolbar, homepage, and desktop applications, which are designed to make the Internet easy for consumers by providing direct access to affinity content and search results. It markets its products under the ALOT brand name. The company was formerly known as MIVA, Inc. and changed its name to Vertro, Inc. in June 2009. Vertro, Inc. was founded in 1995 and is based in New York, New York.
Vertro (Nasdaq:
VTRO
)
is a small company that appears to be benefiting from a nascent "buy the stock / use the service" movement, much like the message board-driven movement that began with Travelzoo shareholders in 2004. The similarities between Travelzoo in March of 2004 and Vertro in October of 2010 are striking: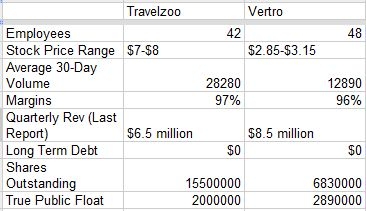 There is a very good article on VTRO on seeking alpha,
click here to read the analysis
My take on VTRO
- I have been having this stock on my watchlist for the last few days but I did not pay much attention thinking that it was just a "toolbar" stock and why should I buy when there are better players like Yahoo and Google but after reading the article I thought it is worth adding to portfolio. The stock gapped up this morning after the above article was posted on seeking alpha and hit $6 but I did not chase it but rather waited for a pull back. It dropped to $5 but I was away from my computer that time. I saw some frenzy buying during the close and add a small quantity at $5.50. This will surely be a good stock for momentum players. Also it is going to release its 3Q earnings on 11/04 so I hope you all will make use of the trend.
The article has some interesting facts and obviously some pumping also so use your judgment before taking any action.
Other stocks -
Closed GS $160 puts between $1.60 and $1.70 for a

52% profit margin

! Isn't sweet to make that much in a few hours? I bought them at $1.10 as disclosed in my previous blog.

Bought December GS $18 2010 170.0 Call again at $2.60 after I closed the puts. I hope market rallies tomorrow otherwise I will manage the contracts accordingly.
Added some more MTSL at $2. I still do not think it's over yet.

A general Caution and Advise
-As I always advise in my posts, Do not chase stocks. please keep in mind that I am not a Stock Market Analyst or an Investment Adviser to count on my recommendations/alerts. As always please do your DD before investing or speculating, start with a small position, always keep your stop losses in place and emotions out. Finally thank me for your profits but do not blame me for your losses because you are the one who pulled the trigger!!!